The New York Times followed up its euphemistic and equivocal coverage (FAIR Blog, 10/5/15) of the US bombing of the Médecins Sans Frontières hospital in Kunduz, Afghanistan, with an article (10/6/15) that continued to downplay the US's responsibility for the deaths of 12 hospital staffers and 10 patients. First, the headline refers to the "airstrike that hit Kunduz hospital"–with no indication of whose airstrike it was:
The lead of the story likewise refers to "the airstrike that destroyed a Doctors Without Borders hospital in the city of Kunduz." Not until the second paragraph does the piece refer to "the American airstrike."
Online, the piece is accompanied by a graphic labeled "Location of Hospital Hit by Airstrike"–an artful use of the passive voice to preserve the fiction that the identity of the hospital's assailants is uncertain, even as the image is embedded in a piece featuring the testimony of a US commander detailing how his forces attacked the medical facility.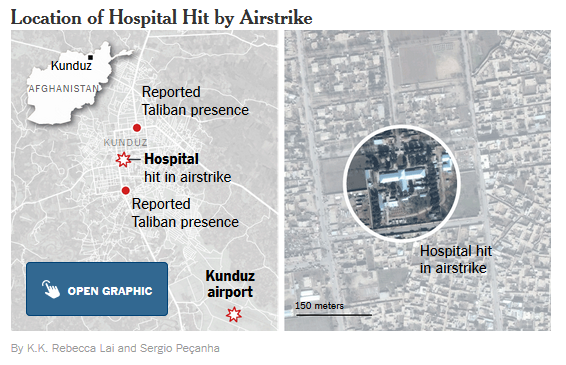 Further down, there's another graphic with an even more circumlocutory heading, "A Hospital Is Hit in the Battle for Kunduz":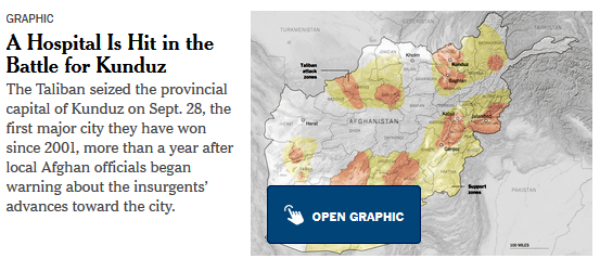 Finally, in the story's 17th paragraph (out of 19), comes a straightforward assignment of responsibility, via a statement from MSF general director Christopher Stokes:
"The reality is the U.S. dropped those bombs. The U.S. hit a huge hospital full of wounded patients and MSF staff," his statement continued, referring to the group by the initials of its French name, Médecins Sans Frontières. "The U.S. military remains responsible for the targets it hits, even though it is part of a coalition. There can be no justification for this horrible attack."
The article concludes with an account of how Germany's Defense minister and top military officer lost their jobs over an earlier aerial massacre in Kunduz in 2009. Will any high-ranking official in the United States face repercussions over the hospital slaughter? It seems unlikely, particularly given how the New York Times and other US outlets have diffused responsibility for the atrocity.
---
Jim Naureckas is the editor of FAIR.org.
You can send a message to the New York Times at letters@nytimes.com, or write to public editor Margaret Sullivan: public@nytimes.com (Twitter:@NYTimes or @Sulliview). Please remember that respectful communication is the most effective.